One of Singapore's airports is Changi [chAun-gee] International Airport, located at the East Side of Singapore. It ranks as the top airport in the world. It currently have 4 terminals, with a 5th being built. IATA code: SIN
In local terms, it is just shortened to "Changi".
Creation
Changi Airport was built and developed in response to the growing passenger handling. Its predecessor, Paya Lebar Airport, was unable to cope.
Changi Airport is built on reclaimed land.
Terminal 1
A landmark in T1 is the Kinetic Raindrops.
T1 opened on 1 July 1981
Terminal 2
Changi Airport T2 Skytrain
T2 opened on 22 November 1990
Terminal 3
T3 was opened on 9 January 2008. Airlines that are based in this terminal are mainly higher tiered airlines. SQ flight going to Europe and Americas can be checked in the terminal.
The architecture features a skylight roof, where in the daytime, natural light falls in and gets reflected while in the night, artificial lights casts shadows.
T3 also contains 2 slides that are opened to the public.
Budget Terminal (discontinued)
The Budget Terminal was demolished to give way to terminal 4 (T4, see below). It was build in demand for the usage of budget airlines, with the lack of amenities usually found in other terminals. Tiger Air was based here before shifted to T1.
It was opened on 26 March 2006 and closed on 25 September 2012
Terminal 4 & Project Jewel
T4: opened on 31 October 2017 was at the site of the former budget (terminal)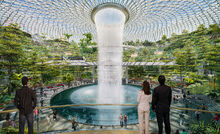 Jewel opened on 17 April 2019
Transportation
Public Transport[1]
Changi Airport can be reached via the East-West Train Line to Changi Airport Station (CG2). Please change at EW4 Tanah Merah Interchange and board the train serving the middle platform C. Alternatively, you can take Downtown Line to Expo (DT35) and change to the East-West Line (CG1) to take towards CG2. There is not need to exit the transit area to switch lines.
Buses that serve Changi Airport:
24 (Ang Mo Kio - Changi Airport - Ang Mo Kio)
53 (Bishan - Changi Airport - Bishan)
27 (Hougang - Changi Airport - Hougang)[2]
858 (Woodlands - Yishun - Changi Airport - Yishun - Woodlands)
36 ( City - Changi Airport - City)
Taxis & Limos
It is possible to hire limousine services to the city.
There are designated taxi queues in every terminal. There is a starting surcharge of $2.50 for a ride from Changi Airport.
Private Hire Services
You are allowed to call for private hire services but they will not call to the taxi queue area.
References